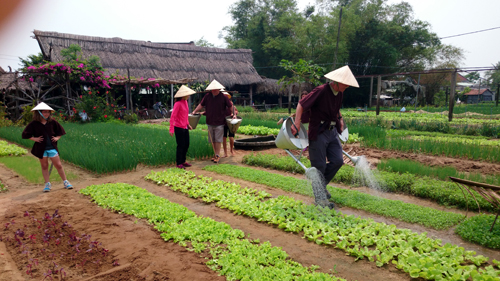 8.30 am : The tourist guide will pick you up at your hotel ; all of you and the guide ride the bicycles to the TRA QUE Vegetables village -famous village.On the way to the village,you stop to take the photos of the rice-farming,you can see the buffalos ploughing a ricefield and you see the vietnamese farmers working on their rice farms...,the fishermen row the boat and catch the fishes by using the fishing net on their boat....
9.00 am : You will arrive in the farming village to see the vegetable gardens & buffalos.Here,You should take the photos of the buffalos.The guide introduces the history of Tra Que village,you will taste the local herbs an ;futhermore,you are cycling around the village to see the farmers growing the vegetable which are very good-smelling,the local farmers do not use the chemicals to put in the vegetable garden.They only use the eco-fertilisers to put in their vegetable garden.It is good to eat the vegetable here.Your lunch has the local mixed vegetables.
9.30 am : The local villagers will teach you how to grow the herbs here.you become a real Vietnamese farmer;the guide will show you their daily activities,he also explain you how to grow the rices....it is not difficult for you to learn their works.You also witness the villagers here to use the water tank & watering their herb garden....ect.After that you will practice to water the herbs in their gardens.
-you will do the cooking class in the village.You enjoy your lunch together with the friendly Vietnamese farming family in Tra Que Village.we think that you will get the warm friendship & welcome from the local people here.It makes you more interested in your life.You feel so happy with the life.
12.30 pm : you ride your bicycle back to your hotel in Hoi An town.The trip finishs.
Including: Pickup,the english-speaking guide,lunch,bicycle,and mineral water.
Note: your group is 2 people or more than 2 people , we can arrange this tour privately for your group.